Florist in Waukesha, WI
Our Location

Address:

11222 W Greenfield Avenue
West Allis, WI 53214

Phone:

(414) 771-7630
Same-Day Flower Delivery by Bel Aire Flowers
Since 1964 Bel Aire Flower Shop has been family-owned and operated. We design custom floral arrangements for all of your floral needs. Our flowers & gifts are guaranteed to put a smile on anyone's face. What sets Bel Aire Flowers apart is our attention to detail and commitment to quality. Our skilled florists carefully select each stem, ensuring that only the finest blooms are used in each arrangement. With a keen eye for aesthetics and a passion for floral artistry, they craft arrangements that are visually striking and truly stand out.

We create flower arrangements for any occasion including but not limited to: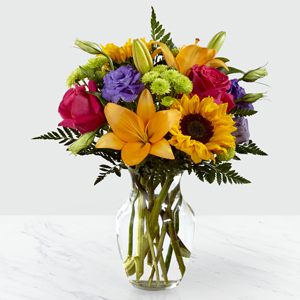 Homecoming
Prom
Sweetest Day
Graduations
Anniversary
Get Well Flowers
Our flower shop near Waukesha offers same-day delivery for orders placed by 11 am, Monday through Saturday. We can also deliver sympathy flowers on Sundays.

Shop All Flowers
Green & Blooming Plants Fruit & Gourmet Baskets
Enhance your green or blooming plant with personalized seasonal decorations tailored to your preferences. Additionally, we offer the option to incorporate fresh or silk flowers into your green plants. Choose from our diverse range of vibrant dish gardens and elegant European gardens, each carefully curated to bring beauty and vitality to your home or office.
Our European gardens feature a resilient assortment of green and blooming plants, specifically chosen to thrive in various environments. These gardens are well-suited for both residential and professional spaces, adding a touch of nature and sophistication to any setting.
For our blooming plants, we prioritize locally sourced varieties that change with the seasons. Our stock is replenished daily, and each garden is expertly planted to ensure a healthy and flourishing display. This attention to detail guarantees long-lasting beauty, creating a lush perimeter around each garden that endures over time.
Contact
Waukesha's favorite wedding florists to begin planning your perfect arrangement today.
Delivering Flowers to Waukesha and All Around the United States & Canada
Bel Aire Flowers offers specialized floral delivery services nationwide, allowing you to conveniently order online or contact us at (414)771-7630. Whether you need flowers delivered to Waukesha, WI or anywhere else in the United States or Canada, our team is ready to ensure your arrangements reach their destination with care and precision.

Same Day Flower Delivery
Common Places Be Aire Flower Shop Delivers To:
Neighborhoods/Cities/Zip Codes
We deliver all around Waukesha including the following zip codes: 53072, 53186, 53187, 53188, 53189
Hospitals
Milwaukee County
Aurora Sinai
Aurora St. Luke's (Franklin)
Aurora St. Luke's (Milwaukee)
Aurora WA MC
Children's Hospital (Wauwatosa)
Columbia Center
Columbia St. Mary's (Greendale)
Columbia St. Mary's (Milwaukee)
Elmbrook Memorial
Froedtert Hospital
Heart Hospital of Milwaukee
Medical College
Mercy Harvard hospital
Midwest Urgent (Oak Creek)
Milw Community Med Cntr (Milwaukee)
Milwaukee Heart Institute
Orthopedic Hospital
Rogers Memorial Hospital
Sacred Heart Rehab
Sinai Samaritan
St. Joseph's Reg. Med Center
St. Joseph-Wheaton Franciscan
St. Jude Children's
St. Luke's South Shore
Surgicenter
Trinity Memorial
VA Veterans
Wheaton Franciscan Healthcare
Wisconsin Health
Wisconsin Surgery
Waukesha County
Community Memorial
(Menomonee Falls)
Medical Associates
Oconomowoc Hospital
Waukesha Memorial
Westwood Health
Washington County
Columbia St. Mary's (Mequon)
Funeral Homes
Milwaukee County
Alstadt-Tyborski Ermenc McLeod FH
Banks Funeral Service
Bevsek-Verbick FH
Borgwardt FH
Brett FH
Bruskiewitz FH
Fass Balistreri
Ferrick FH
Forest Lane
Golden Gate FH
Goodman Bensman FH
Hartson FH (Hales Corners)
Heritage
Informed Choice
Janssen-Moldena
Jelacic FH
Jewish Community FH
Joseph Sass FH
Kleczka Prasser FH
Krause FH
Lakeview FH
Larsen Bros FH
Northwest Funeral Chapel
Paradise memorial
Patton FH
Pitts Mortuary
Raasch FH
Ritter Larsen
Sass, Max A & Sons
Schaff Funeral Services
Schmidt & Bartelt FH
Schramka FH
Williamson Leon L FH
Witkowiak FH
Scheuerell & Tebo-Peppey-Klemmer Chapel
Serenity FH
Rozga FH
Suminski Family FH
Tebo-Peppy-Klemmer & Scheurell
Tyborski-Alstadt Ermenec-McLeod FH
Walloch FH
Waukesha County
Becker Ritter FH
Church & Chapel
Harder FH